Old-school charm meets contemporary elegance at Kingwood Boutique Hotel.
Nestled in the centre of Miri's most eclectic neighbourhood, we provide the perfect place for you to relax and leave the chaos of the day behind. Featuring 49 designer guest rooms, an all-day restaurant, quaint lobby café and hip rooftop bar, we are on a mission to capture the heart of the discerning nomad.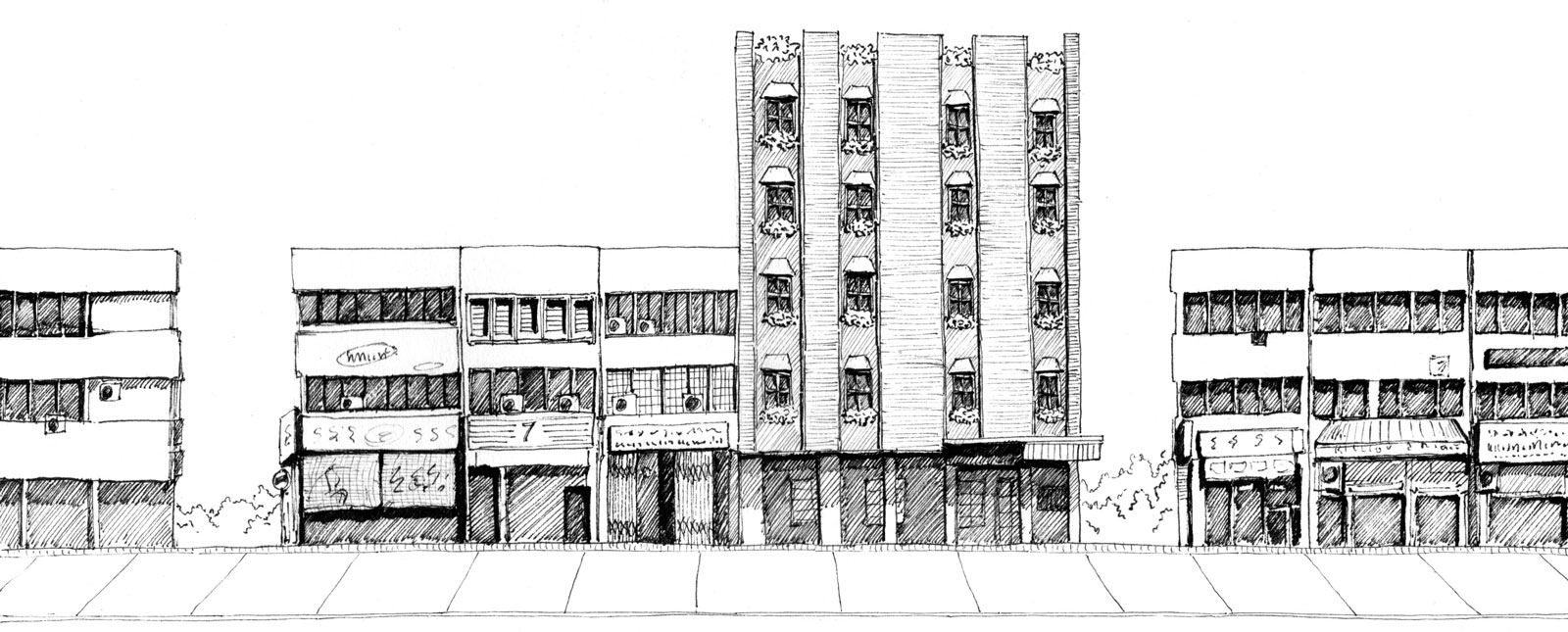 Welcome to the original Kingwood.
Kingwood Boutique Hotel first began life in 1986 as Rinwood Inn – two lots of nondescript shophouses that were converted into a comfortable space to house Founder, Datuk Hii Yii Peng's various foreign business clientele. What began as a simple act of hospitality quickly became the inspiration upon which the Kingwood Group was found.
After close to three decades of service that saw the Kingwood brand expand to other parts of Sarawak, the Group decided to revisit the site of its humble beginnings. Plans were made to refresh the property's dated appearance, and in 2014, the property underwent an extensive exercise to bring it into the 21st century.
In 2015, the hotel reopened as Kingwood Boutique Hotel – the Group's first upscale, out-of-the-box, 49-room boutique offering in its traditional lineup of star-rated properties.
Kingwood Boutique Hotel is on a mission to capture the heart of the discerning nomad.
Your room is ready. Welcome home.
With 49 designer guest rooms on offer, expect to find the design aesthetic firmly rooted in the quiet, textural elegance of nature. Surfaces are finished in natural wood and stone, set against an earthy colour palette that is sure to inspire serenity and relaxation. It's a timeless style that manages to seamlessly blend old-school charm with contemporary elegance.
Standard room features
All rooms are designated non-smoking
Complimentary morning newspaper
Individual climate control
In-room safe
Rain shower heads
Comfortable desk chairs
Ample work-space desk
Spa-inspired amenities
Plush bedding
Complimentary Wi-Fi for all your devices
The Crown Loft
If extravagance is what you're after, then our Crown Loft sets the bar high with an impressive duplex design that features a plush queen-sized bed on the mezzanine level, and a private marble bathroom and spacious living room area on the ground level.
Empire Suite
Space is the name of the Empire Suite's game, because there's certainly a fair bit of it here. Furnished with a plush queen-sized bed, private marble bathrooms and a separate parlour area that ensures you'll always have a nook to relax in or work out of.
Classic Deluxe
You'll love our Classic Deluxe rooms, which provide a wonderful sanctuary for any weary traveler. Furnished with a plush queen-sized bed, luxurious linen and private marble bathrooms, the Classic Deluxe is a room you'll keep wanting to come back to.
Classic Twin
Our Classic Twin rooms are efficient yet wonderfully stylish – the perfect room to share with another. All Classic Twin rooms feature two plush single beds, luxurious linen and private marble bathrooms.
The Classic
An intimate room steeped in luxurious finishes that feature a studio-style design. Each Classic room comes with one plush queen-sized bed, luxurious linen and marble bathrooms.
We happen to think that food brings people together. With this in mind, we invite you to experience two dining outlets within the property: an unobtrusive yet dependable restaurant and a quaint lobby cafe that  make one of the best home-brewed cup of coffee in Miri. Come together with great friends and share memorable moments together over a good cup of coffee … or three!
Business Hours
Bonzer Restaurant
7.00am – 3.00pm
6.00pm – 11.00pm
Lobby Café
9.00am – 11.00pm
We would love to hear from you!
(+6) 085 415888
(+6) 085 322889
Kingwood Boutique Hotel (Miri) Sdn. Bhd. (147317-D)
Lot 826, Jalan Yu Seng Utara, P. O. Box 1838, 98008 Miri, Sarawak.
For general enquiries:hello@kingwoodmiri.com.my
For bookings: Click here.